Brand Asia 2013 Survey Results
Coca-Cola, Apple, Samsung, and Google get high scores for brand strength; local brands monopolize top three places in Myanmar; Sony and Honda do well among Japanese brands.
Nikkei BP Consulting Inc. (*1), located in Minato-ku, Tokyo, today (May 20, 2013) has released and put on sale in Japan a report of the results of its Brand Asia 2013 (*2) survey, a brand evaluation project covering 12 regions in Asia. The survey measured the images of individual brands in these regions, such as their friendliness, usefulness, and perceived quality, investigated regional differences and image trends, and evaluated the overall strength of major brands across the board.
The quantitative survey targeted ordinary consumers in China, India, Indonesia, Japan, South Korea, Malaysia, Myanmar, the Philippines, Singapore, Taiwan, Thailand, and Vietnam. Evaluation was undertaken for 60 global brands common to the 12 regions and other selected brands center on local brands in each region (40 brands; 20 brands in Malaysia; none in Singapore).
Coca-Cola, Apple, Samsung, and Google get high scores for brand strength in Asia.
Local brands come top in Malaysia, Myanmar, and Vietnam.
Sony and Honda do strikingly well among Japanese brands.
Coca-Cola, Apple, Samsung, and Google Brands Rate Highly in Asia
Table 1 shows the top 10 rankings in terms of overall brand strength in 12 of the surveyed Asian regions. It shows that Coca-Cola, Apple, Samsung, and Google are highly rated brands in Asia.
Coca-Cola did very well over a wide area, coming second in the Philippines, fourth in India and South Korea, fifth in Thailand, seventh in Myanmar, and eighth in China. Apple came first in Singapore and China and also finished in the top 10 in Taiwan, South Korea, and Malaysia. Samsung came first in South Korea and third in Singapore and also maintained a strong presence in Myanmar, Vietnam, India, and Malaysia. Google came first in Taiwan and also had a striking presence in Singapore, Vietnam, and Malaysia.
The survey calculated brand strength on the basis of the four factors of "outstanding," "innovative," "friendly," and "convenient." Among these four factors, what was common to Coca-Cola, Apple, Samsung, and Google was their high scores for being "innovative." The vigorous approach of these brands so as not to let people get bored with them and their sensitive responses to changes in the Asian consumer mind seem to have led to their positive evaluation as "attracting attention now" and "pioneering" brands.
Meanwhile, there were some local brands—Skynet in Myanmar, Vinamilk in Vietnam, and Maybank in Malaysia—that outstripped these global brands and came top in their respective regions.
Local Brands Monopolize Top Three Places in Myanmar
Seven of the top 10 brands in the overall brand strength ranking in Myanmar were local brands, showing that, as in the Philippines, local brands have a strong presence in that country. Indeed, local brands monopolized the top three places in Myanmar—the first being taken by the satellite broadcaster Skynet, the second by the supermarket City Mart, and the third by KBZ, the largest private bank in the country.
It is interesting that besides local brands, three European and US brands made it into the top 10 in Myanmar, and the only other Asian brand to do so was Samsung in fifth place. In addition, unlike the other regions, no Internet brands made it into the top 10. This result seems to be a good reflection of the situation in Myanmar, where the diffusion of mobile phones and full-fledged construction of a broadband environment are yet to come.
Furthermore, looking at the results for images of brands, we can see that recognized brands in Myanmar tend to be the ones with high image volume. This result offers a glimpse into the consumer mind in Myanmar, where there are not so many commodities flooding the market as there are in Japan.
Sony and Honda Maintain Strong Presence among Japanese Brands
Looking at the results for Japanese brands in the 12 regions, we can see that Sony and Honda are maintaining a strong presence in terms of brand strength. In the overall brand rankings, Sony came fourth in Taiwan and Singapore and seventh in Vietnam, while Honda came second in Malaysia and Vietnam and fourth in Thailand.
Nevertheless, Japanese brands do not stand out in the top 10 rankings of the regions. The data suggests that despite their active entry into other Asian countries in recent years, Japanese companies need to review their marketing strategies.
Incidentally, automobile brands received high scores in Malaysia and Thailand, accounting for second to fourth places in Malaysia (Honda second, Toyota third, and Mercedes-Benz fourth) and first to fourth places and sixth place in Thailand (BMW first, Mercedes-Benz second, Toyota third, Honda fourth, and Nissan sixth).
Through this survey project, we have picked up the opinions of consumers in Asia regarding brands. From now on, we are scheduled to further analyze these opinions, question what is necessary to create and maintain strong brand strength in each region, and provide effective marketing data to companies wanting to accelerate their business in Asia.
*1 Nikkei BP Consulting: Fully owned by Nikkei BP, Nikkei BP Consulting engages in consulting and contents-related marketing and solutions, including the implementation of surveys and consultations, planning and editing, and production. It was founded on March 1, 2002, and has capital of 90 million yen.
*2 Brand Asia 2013: This survey, conducted from October 2012 to January 2013, used the analytical method of the Brand Japan survey, which is conducted annually by our company and is the largest brand evaluation survey in Japan. Brand strength was calculated and analyzed by condensing 15 items of brand image into four factors and using the same measurement in all of the 12 regions.
Survey Overview
Name of Survey
Brand Asia 2013
Survey Objectives
・To survey and measure the brand strength of 60 major global brands in 12 Asian regions (China, India, Indonesia, Japan, South Korea, Malaysia, Myanmar, the Philippines, Singapore, Taiwan, Thailand, and Vietnam), as well as to assess any regional differences and trends on factors such as favorable impression, usefulness, and quality of these individual brands.
・To conduct surveys on 40 brands in each of the surveyed regions to serve as benchmarks (focusing on local brands; 20 brands in Malaysia/none in Singapore) .
Survey Policies and Composition
Brand Asia employed the same assessment and analysis procedures used in Brand Japan, the largest brand evaluation survey project in Japan, which was conducted for the 13th time in 2013. The key data survey items used to calculate overall brand strength--and the covariance structure analysis--are consistent between the two surveys, drawing on Nikkei BP Consulting's expertise in evaluating brand strength. Brand Asia's work on this project consisted of surveying consumers in 12 Asian regions on brand value, including the collection of real-time data.
Regions Surveyed
China, India, Indonesia, Japan, South Korea, Malaysia, Myanmar, the Philippines, Singapore, Taiwan, Thailand, Vietnam
Survey Target Group
Men and women, 20s-50s
Survey Period
October 2012-January 2013
Details on survey target brands
・A total of 100 brands were surveyed in each region
60 global brands were surveyed in all regions.
In 11 regions, excluding Singapore, 40 primarily local brands were selected and surveyed
(20 brands in Malaysia).
・The 60 global brands were limited to the following 9 sector industries:
1) FMCG (fast-moving consumer goods /sundry consumer goods), 2) Foods, 3) IT/Home electronics,
4) Automakers, 5) Retail, 6) Finance, 7) Internet-related, 8) Restaurants, 9) Sporting goods,
Note: Some brands selected in some regions were not necessarily included in the above-mentioned categories.
Survey Procedure/Collected Number
| Region | Target Cities | Procedure |
| --- | --- | --- |
| China | Beijing, Shanghai | Internet survey |
| India | Delhi, Mumbai, Kolkata, Chennai, Nagpur | Street survey |
| Indonesia | Jakarta, Surabaya, Bandung, Medan | Internet survey |
| Japan | Tokyo, Osaka, Nagoya | Internet survey |
| South Korea | Seoul | Internet survey |
| Malaysia | Kuala Lumpur | Street survey |
| Myanmar | Yangon, Mandalay | Street survey |
| Philippines | Manila | Street survey |
| Singapore | Singapore | Internet survey |
| Taiwan | Taipei, Taichung, Kaohsiung | Internet survey |
| Thailand | Bangkok | Telephone survey |
| Vietnam | Hanoi, Ho Chi Minh | Street survey |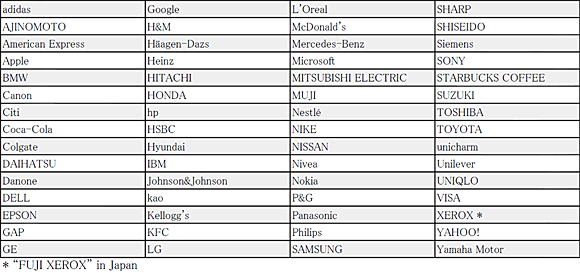 click to enlarge
* "FUJI XEROX" in Japan
Project Planning and Data Analysis
Nikkei BP Consulting
For inquiries concerning this matter, please contact the following:
Kenichi Yoshida/Makoto Oyamada
Brand Communication Department
Nikkei BP Consulting Inc.
NBF Platina Tower, 1-17-3 Shirokane, Minato-ku, Tokyo 108-8646
E-mail: consult@nikkeibp.co.jp
http://consult.nikkeibp.co.jp/